Summary
Morbid Obese mother of 7 fundamentalist Christian who somehow finds men on the internet to give her lots of money.
Shanny's every stereotype of fat white trash, including but not limited to: various arrests and brushes with the law, poor life decisions, drug use, multiple husbands resulting in ignored children who have seen horrors; evictions, name changes and internet attention whoring which attracted a small, but ever growing cadre of haters whom she blames for all her problems.
Shanny's current "husband" is Jason William Egroff, known to the internet as The Reverend or Rev. Together they are known as Rev and Shanny and they will livestream for hours on end from their squalid bedroom. Rev's claim to fame is his tiny baby carrot dick which he tries futilely to cram into Shanny on their OnlyFans page. Jason also has his own channel where he posts music videos on an array of subjects including his tiny penis. She was previously married to Douglas Gattis and had two children by him William and Zachary.
Criminal History
Shanny ForChrist Facebook Page
Shanny was the landlord of Gman but then they had a fight and she evicted him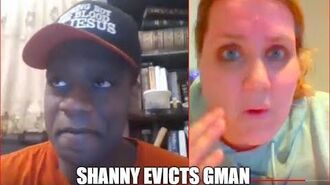 WATCH THE VIDEO BELOW TO WITNESS SHANNY IN LESS THAN 2 MINUTES TALK ABOUT BEING IN THE PSYCH WARD, HER DOMESTIC VIOLENCE, HER CUTTING HERSELF, HER HUSBAND CHEATING ON HER AND HER GETTING ARRESTED AND GOING TO JAIL FOR WIELDING AN AXE!!!